Antique & Vintage Dress Gallery
www.antiquedress.com
9 IMAGES: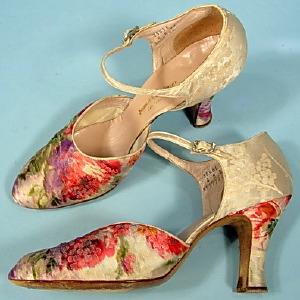 #4945 - c. 1928 SOMMER & KAUFMANN Warp-Printed Silk Dance Shoes! God I love 1920's shoes! Just seems every pair I see, I love. Deco designs and floral designs... many with the sexy cut out sides. These are a higher heel than the early to mid-1920s curved Louis shoes.. heading toward the 1930s style heel. These shoes are not in mint condition, but it's hard to see the flaws as they blend in with the floral design.. slits in the silk. I'm not sure what it is about Sommer & Kaufmann, but I have only seen lovely antique shoes with that label. They were artists! And indeed I see a few pairs of Sommer & Kaufmann shoes in the Fine Arts Museum of San Francisco. I believe it was a shop in San Francisco... obviously selling only the best! Measures: 9.5" long x 2.75 wide., but for display only.
SOLD - but on display in Museum Category for Research/Display
[Back]