Antique & Vintage Dress Gallery
www.antiquedress.com
1 IMAGE: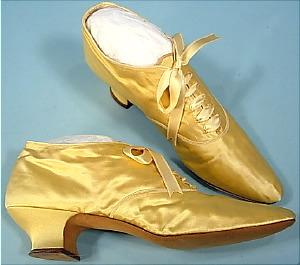 #4941 - c. 1894 ROBITSEKS VIENNESE Yellow Satin Evening Shoes! Never Worn! Wow! So rare to find antique shoes with nearly pristine soles! Wonderful label. Just makes you ache to know why she bought these shoes and then never wore them! Was the ball cancelled? Did her Gentleman friend disappear? Was she Cinderella? Oh, and WHAT a color!! Bright yellow satin! Someone questioned whether the yellow satin ribbon was original, but matches so well... hard to believe it isn't. Measures: 10" long x 2.5" wide. Curved heel. Great piece for your shoe collection. Rare find indeed!
SOLD - But on Display for Research/Study
[Back]