Antique & Vintage Dress Gallery
www.antiquedress.com
1 IMAGES: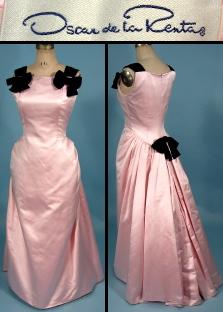 #6705 - c. 1990's (?) OSCAR de la RENTA Pink Satin Ballgown with Black Velvet Bows and Ribbon! Do you, like me, believe that one of the top 10 dresses in modern history was the Givenchy gown worn by Audrey Hepburn in "Sabrina"? You know... in the tennis court scene? Well, I ALWAYS seek out gowns of that look or shape... and believe me, they are very hard to find. So, this Oscar de la Renta pink satin gown stopped me in my tracks. Oooh baby! It doesn't really have an "overskirt" as Audrey's gown, but it was designed with hip padding to give a Victorian hourglass shape and it makes the skirt fall in such a way that gives that same allure. The back is just as beautiful with the low "bustle" shape and black velvet bow! It's a combination of the most wonderful styles created in one magnificent gown!! And the color is equally fabulous! Magnifique! Crinolines under create the shape as you see it. Condition is Excellent with the exception of some pulls in the satin (see photos). Measures: 35/36" bust, 28/29" waist, 55" long from shoulder to hem. Labeled size 6 and that seems right.
SOLD - but on display in Museum Category for Research/Display
[Back]