Antique & Vintage Dress Gallery
www.antiquedress.com
11 IMAGES: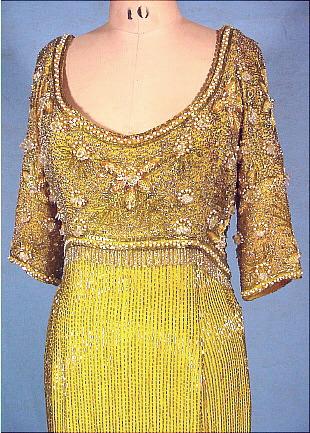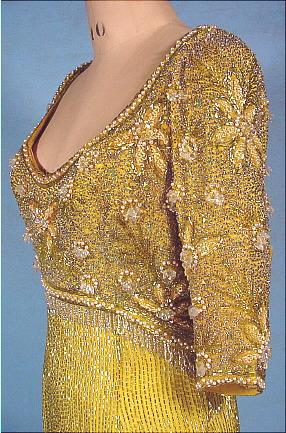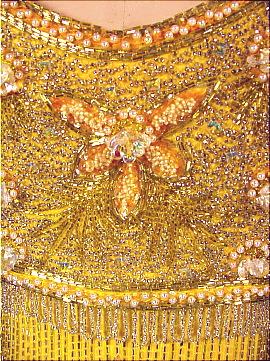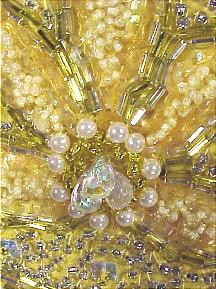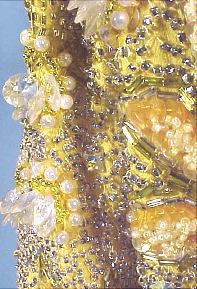 #9344 - c. early 1960's HELEN ROSE COUTURE Incredible Beaded Yellow Gown! You might know who Helen Rose was by now (if you read through my descriptions!), but if you don't, Helen Rose was one of the few top Hollywood designers from the 1940s-1960s. She costumed over 200 films for MGM and was honored with 10 Oscar nominations and two Oscar wins! Her most memorable designs were perhaps Liz Taylor's "Cat on an Hot Tin Roof" white wrap dres and slip, and Judy Garland's 1890s muttonsleeve gowns for "Meet me in St. Louis". But perhaps Helen Rose is best known for designing Grace Kelly's wardrobe for "The Swan" and "High Society" and, as a personal favorite, was selected to design Grace Kelly's personal wedding gown! Helen's consumer line existed from 1957-1972. Her beaded gowns sold for over $1,000 in the 60's! Gorgeous yellow silk gown fully beaded with silver bugle beads down skirt and elaborately beaded bodice with faux pearls, sequins, beads and hanging clear drops in low scoop neck and 3/4 length sleeves. Even has small loops of beads at bodice bottom for a little extra "kick" when you walk. Excellent condition! So... if you are planning to win an Oscar nomination, you will need an Oscar caliber gown!! You will want wide shoulders for this dress! Nearly perfect... and certainly museum/collectable worthy! Looks AMAZING on!!!!
SOLD - but on display in Museum Category for Research/Display
[Back]