Antique & Vintage Dress Gallery
www.antiquedress.com
10 IMAGES: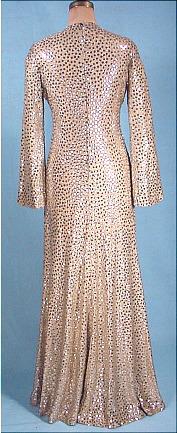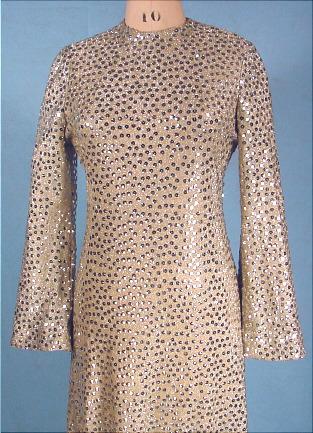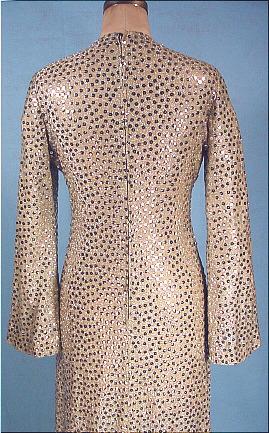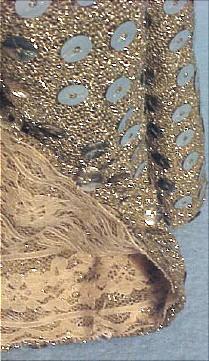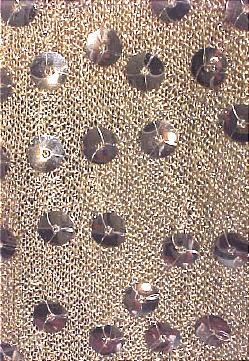 #9328 - c. 1960's NORMAN NORELL / I. Magnin Highly Sought, Fully Sequin Gown in Platinum!! As you may know, the Norell "Mermaid" sequin sheath gowns sell for "big bucks". In April 2003, Doyle Auction House, New York sold one for $4,481. The Norell sequin gowns are designed to look like pure liquid shine when worn. The photography shows up the individual sequins, as does the dress in close-up.. but when worn, the look is just dazzling! This gown has a bit more flair than the mermaid gown, with slight bell sleeves, simple body-hugging bodice showing off all the important curves, and then bias cut "skirt" to glide with you as you walk. The base of the gown is a thin nude and metallic knit. Unlined to drape correctly. All the sequins are individually sewn on. This gown was lengthened to the longest length with lace hem tape under - but clean (Never having seen another of these gowns up close and personal, I can't tell you what the hem normally looks like!), and the sleeves have been hemmed up an inch from the original length and can easily be re-hemmed with no problems, but I'm leaving as is for now. Excellent condition. I have never met a sequin dress that didn't have a few sequins missing, but there is no particular problems here (probably a few gone, but I can't see where!). I'd love to see this gown worn with a hip chain belt.. very Guenevere!
SOLD - but on display in Museum Category for Research/Display
[Back]