Antique & Vintage Dress Gallery
www.antiquedress.com
8 IMAGES: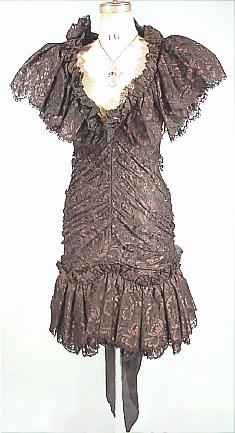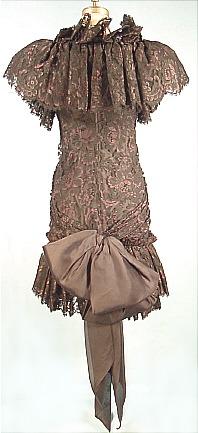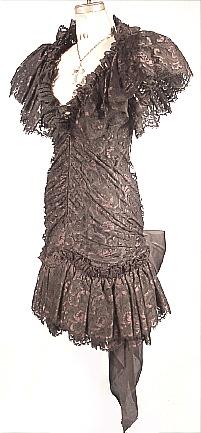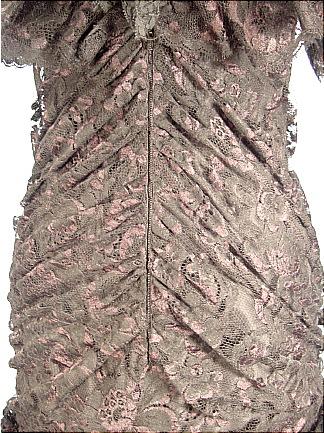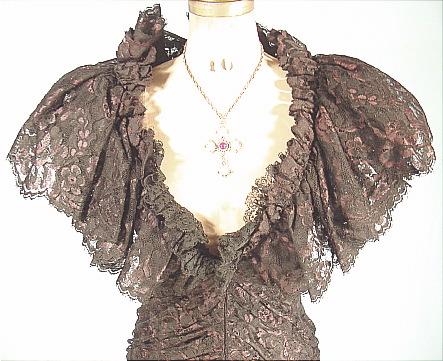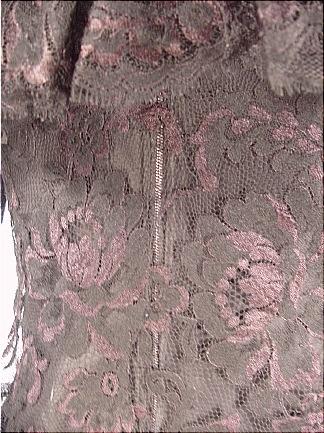 #9299 - c. 1983 EMANUEL UNGARO COUTURE, Paris Black and Purply/Wine Lace Confection Dress! MUSEUM Quality! Stop. There are not all that many actual couture vintage dresses out there. Most of the time you are seeing high-end ready-to-wear... but this dress has the Couture label (with dated hand-written numbered tape under), it's not the Ungaro Parallele label. The last time we saw Penelope Cruz and Tom Cruise together (at the premiere of "The Last Samurai") Penelope never looked better... or sexier. She was in her black vintage chiffon Emanuel Ungaro haute couture frock. Gathering everywhere at front, frilly ruffled "skirt", huge shoulders continue around back to create the look of a short cape with high neck. Oversized taffeta bow at back. When the 80's dresses finally make their comeback, you will have one of the best. Strange, though! It look me a while to figure this out as it zips up the front!!!! There is a faux zipper in the back! Wacky! Probably so the runway model could unzip herself to show off more than we might. Makes me wonder if this was a prototype dress???? Making it even more valuable and collectable. Excellent condition, possibly never worn.
SOLD - but on display in Museum Category for Research/Display
[Back]