Antique & Vintage Dress Gallery
www.antiquedress.com
9 IMAGES: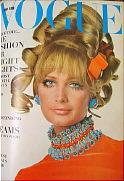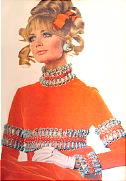 #9206 - c. 1967 I. Magnin Bright Coral Shantung Silk Gown with Matching Evening Coat with Turquoise and Coral Beading! Museum Quality! This is the best 1960's evening set I've seen! Similar (colors and beading) to a dress on the cover and inside of the November 1, 1967 Vogue! Couture details. Very heavy. Encrusted with turquoise and coral beading at extreme high bodice, as well as cuffs of coat. Same brilliant turquoise silk lining inside coat for a "wow" when open! The gown will do nothing for the figure... hangs from mid bust in a slight oval shape with extra material gathers at front. Back metal zipper on gown. Coat has same high bodice tailoring. Measures: 38-40" bust, up to 42" hips, 56" long from shoulder to hem.
SOLD - but on display in Museum Category for Research/Study
[Back]