Antique & Vintage Dress Gallery
www.antiquedress.com
12 IMAGES: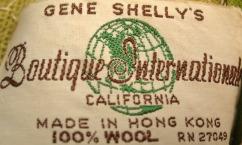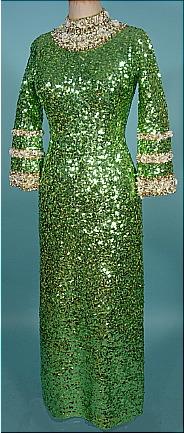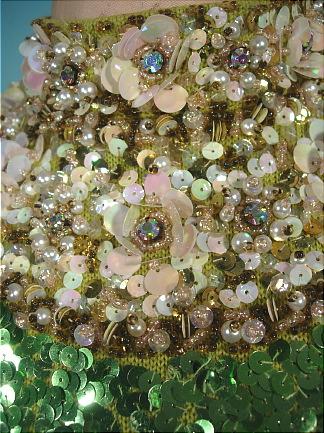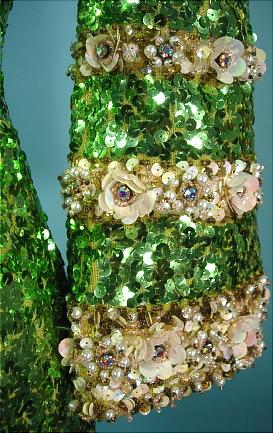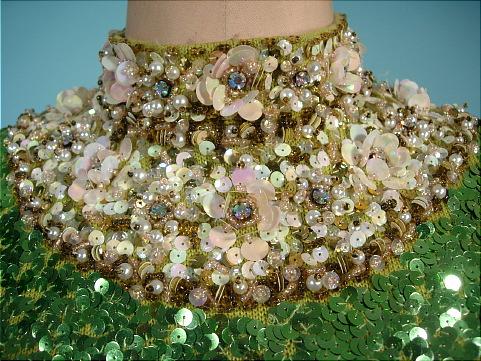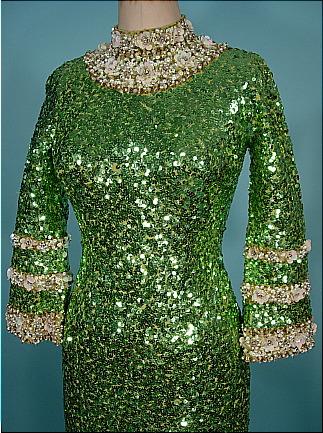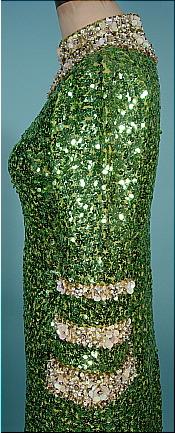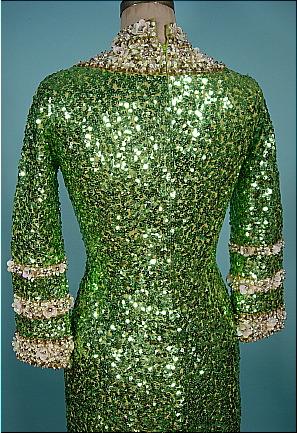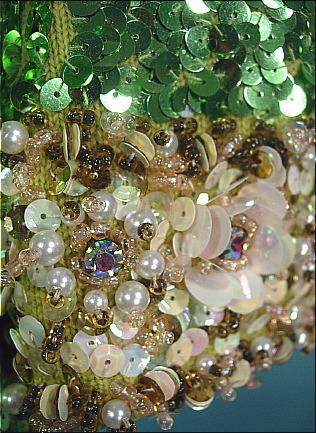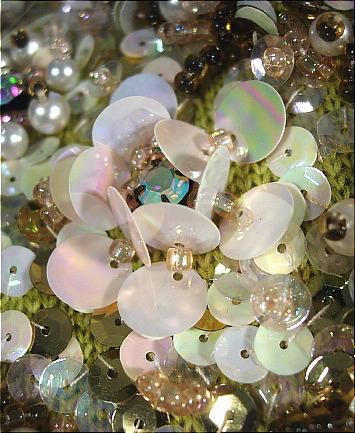 #7214 - c. 1960's GENE SHELLY's Boutique International, California - Made in Hong Kong Hand Knitted Wool Knit Gown Encrusted with Green Sequins and Crystal Floral Beading!! Walk into the room in this and all eyes will be on you! Guaranteed! (Not literary, please don't sue me!) One of the most exciting of these type gowns I'm seen! These wool knit dresses and gowns entirely covered with beading were extremely popular in the 1960s... for a very good reason! They are gorgeous on just about everyone, AND very comfortable! Just like wearing a long favorite sweater (though not a bulky wool knit). Bell-shaped long sleeve and "Dior" neckline are covered in white paillettes, various clear and white sequins, rhinestones beads and faux pearls all in a 3-dimensional floral design! And you don't even need your 3D glasses!! :) A 1964 magazine wrote: "Shelly's designs included slithery, spangled cocktail dresses and full length evening attire. The hand embroidered or beaded detail was done in Hong Kong on American manufactured fabric. A long rajah coat with jewels will sell in the United States for almost $350, while a two-piece dress will bring almost $600! This is from 1964!! Nearly impossible to measure because it's a knit, so stretches and will fit a variety of bodies, but Approximate size 2-6/8. Measures: up to 36" bust, up to 30" waist, up to 40" hips (but shown on mannequin 35/25/36 and is snug on her as well!), 54" long from shoulder to hem. Excellent condition. Note, you see the green wool knit material below the beading. This is original and normal... see close-up photos for all detailing. BE MORE FABULOUS THAN THE XMAS TREE! I listed the dress and decided to wear it to the Asian themed Xmas party this year, and got so many compliments. Don't hesitate to buy these wool sequined Hong Kong dresses... they are SO wonderful and comfortable... and warm on a chilly winter evening!

$ 1,750.
Approx. - SIZE 2/4/6, to smallish 8
(check measurements above)