Antique & Vintage Dress Gallery
www.antiquedress.com
9 IMAGES: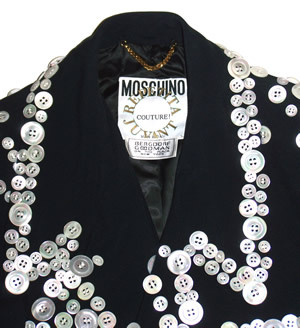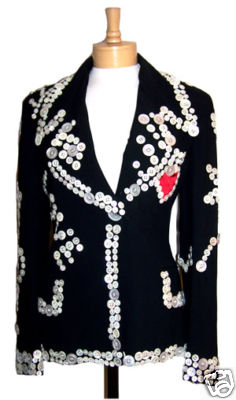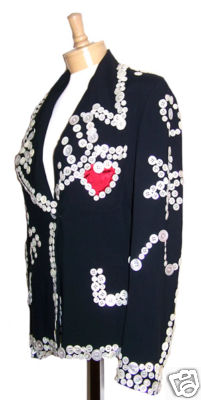 #6692 - c. 1993 RARE MOSCHINO COUTURE Jacket of Deep Navy Gabardine Heavily Embellished with White Pearl Buttons! Worn by CANDICE BERGEN in an episode of "Murphy Brown"! Valued at $3,150!
Donated by Candice Bergen from her personal collection (kept after wearing on her hit sitcom, Murphy Brown) comes this exquisite Moschino Couture jacket!
This exceptional couture jacket is crafted in an acetate/rayon blend gabardine (feels SO SOFT!!) and is heavily embellished with white pearl buttons in the London Pearly King/Queen tradition (popularized by "Mary Poppins" to those of you who don't recognize this look!) Jacket features single large front button closure with 'Moschino Couture' imprint that matches the various size buttons sewn throughout the jacket, along with hidden snap front closure for a perfect fit. A red satin heart (representing "charity") adorns the front of the jacket, along with a red satin circle and diamond on the right sleeve. 'LOVE' is written diagonally along the front in a unique button pattern. Jacket features two front flap hip pockets and fabulous wide notched sleeve. In addition to the Bergdorf Goodman on the Plaza label, is the 'Moschino Couture Repetita Juvant', Made in Italy label celebrating his company's 10 years in the biz by re-visiting some of his favorite past designs. Sadly Franco Moschino died the following year in 1994. This heavily embellished jacket is in pristine, mint condition and shows no wear whatsoever, with the exception of a few nicks on a few of the buttons. A truly amazing find for the couture collector! Measures: 36" bust, 32" waist, up to 39" hips, 24" sleeves, 16" shoulder to shoulder. VALUED at $3,150!
SOLD - but on display in Museum Category for Research/Display
[Back]