Antique & Vintage Dress Gallery
www.antiquedress.com
6 IMAGES: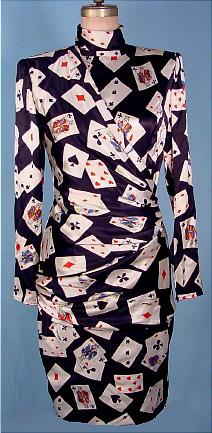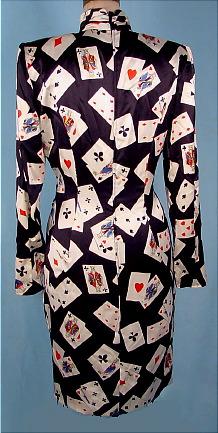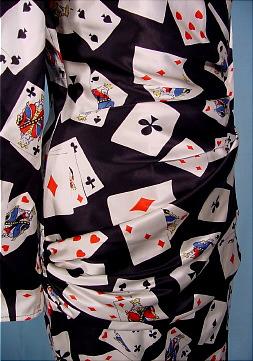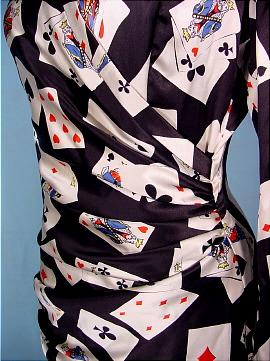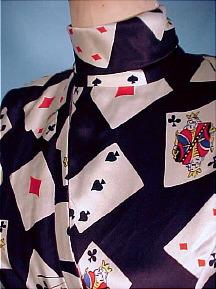 #500ung - c. 1980's UNGARO Black Silk Charmeuse Body-Hugging Playing Card Dress! Well, I'd know that this dress is from the 1980's just from the classic very padded shoulders, but there is another reason I know it's from the 1980's and that's because it's MY dress! Yes, ladies and gentlemen, I've finally decided to part with an item from my personal, private closet of - no, not vintage clothing - but a dress I bought to wear in the 1980's. OK, I'm lying. I didn't actually buy it. My boyfriend at the time had an upscale clothing store and this was one of the few dresses that I asked for and got for free. I couldn't have afforded to buy it at the time, but I was lucky enough to have the right boyfriend! Years later I needed a home, so I married an architect. I'm not a stupid girl!!!!! Anyway, back to the dress... The dress was worn ONCE and only for a few hours during a card game (because I though it would be cute), but I LOVE it! Form-fitted, mock wrap, mock turtleneck, back zipper... sexy as all get out on the right figure! I added an actual card up my sleeve when I wore it since it was well hidden in the fabric design! :) There's no other way I'd win at cards... I'm terrible at anything but "Go Fish". A Great Fun dress!
SOLD - but on display in the Museum category for Research/Study
[Back]