Antique & Vintage Dress Gallery
www.antiquedress.com
13 IMAGES: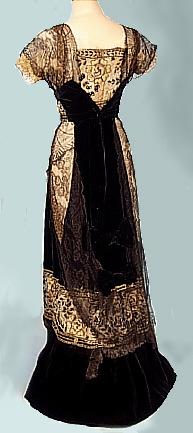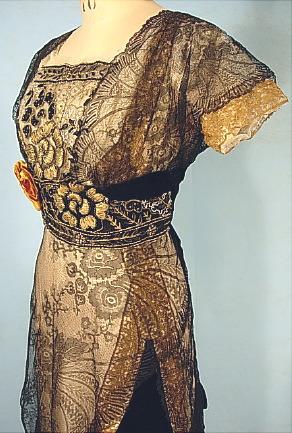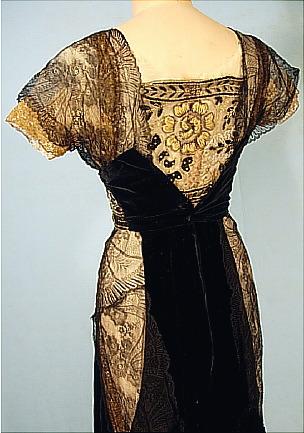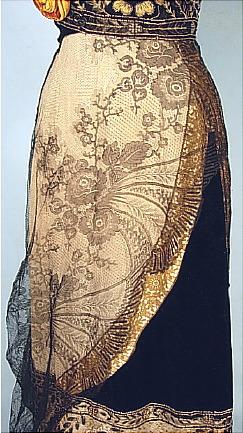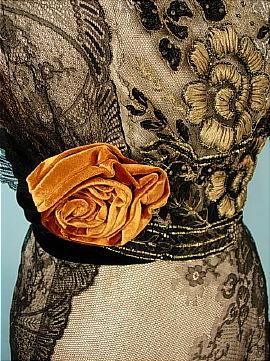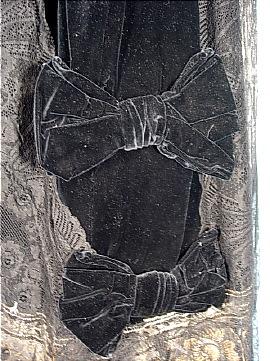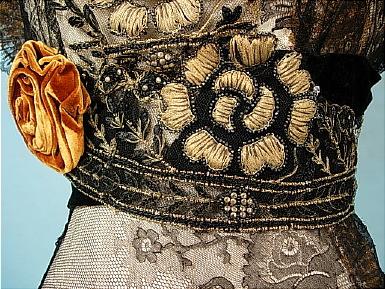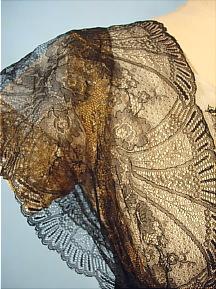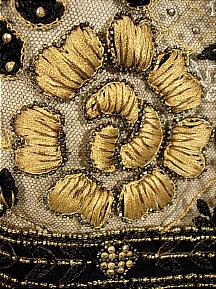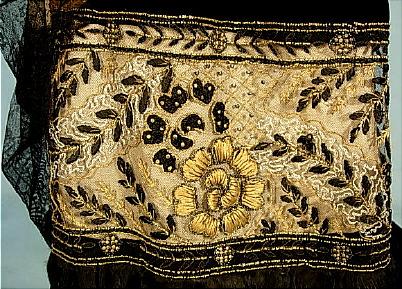 #4452 - c. 1910 Black Cotton Velvet and Silk Chantilly Lace Edwardian Gown! This same gown sold at the Doyle New York Couture auction in November, 2000 for $3,500. The listing read: "With slightly raised waist emphasized with wide band, short net sleeves, square neckline, A-line skirt with small train, the bodice sides and part of the skirt overlaid with fine black lace, the center bodice, waist and lower part of skirt further decorated with floral embroidered tulle worked in gold metallic, black and white silks and beads, the lower edge of skirt band trimmed with black fur. Excellent condition, minor beginning splits to silk lining." Yeah, OK, that about sums it up.. but Geez.. what happened to "OH MY GOODNESS, what a GORGEOUS GOWN?" The kind of gown that is just perfect in his design! An Elegant Beauty! Golden velvet rosette at beaded and embroidered waistband and bodice exquisitely sets off the nearly hidden gold lame lace under the bodice, sleeves and skirt. Two pretty little velvet bows are attached to back "train". You can't stop looking at it, can you???? I can't!!! So.. now for the good and bad... the exterior of the gown is nearly perfect! Hard to find anything wrong with it!! However, the interior taffeta lining is now definitely going, and will need to be replaced eventually, or stablized. So many of the great Edwardian gowns were ruined during the filming of "Titanic".. really! That's true!! The great ones are harder and harder to find!
SOLD - but on display in Museum Category for Research/Study
[Back]