Antique & Vintage Dress Gallery
www.antiquedress.com
11 IMAGES: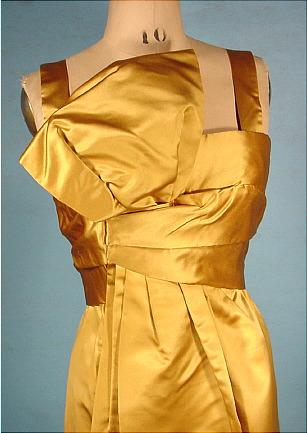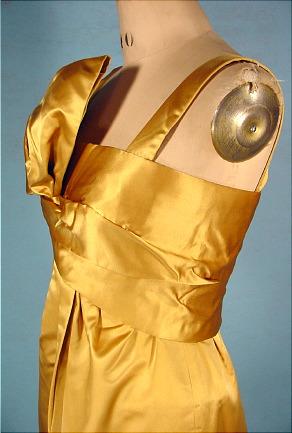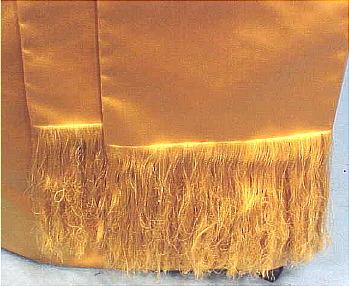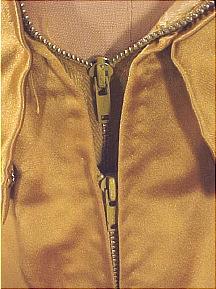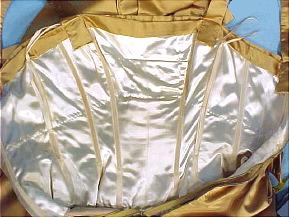 #4269 - c. 1950's CHRISTIAN DIOR, New York Gold Gown with Matching Scarf! Wanna look like an Oscar Statuette???? I'd love to see the wearer of this gown with long white or black gloves... just think about it! What a pretty picture, huh? The gown comes with a fairly small matching "scarf" or "shawl". I'm not sure how Dior wanted the woman to wear the shawl exactly... but it's just to keep a slight chill off... certainly ain't no pashmina to keep you warm! :) But you will look so "hot" in this gown... you'll make your own heat! :) The highlight of this gown is the huge "bow" that travels from the upper bust through the bodice design and the two "tails" hang down the front of the gown to the hemline... Beautifully made gown with double back metal zippers! but end with a fringed bottom! Measures: 32" bust, 24" waist, up to 45" hips, 57" long from shoulder to hem, 55" x 12" shawl. Excellent condition!
SOLD - but on display in Museum Category for Research/Study
[Back]