Antique & Vintage Dress Gallery
www.antiquedress.com
5 IMAGES: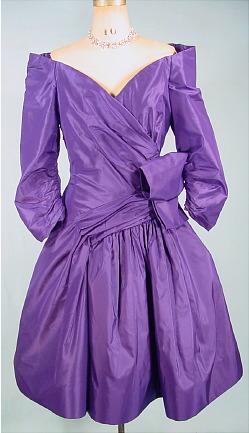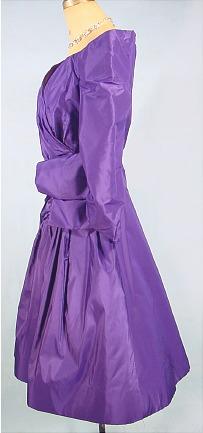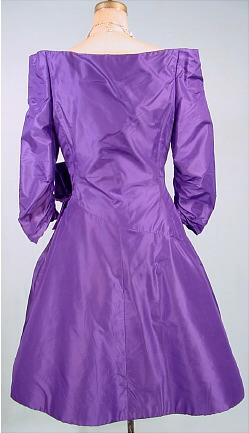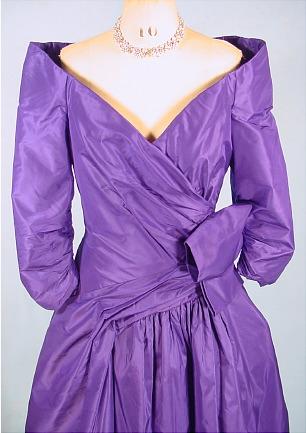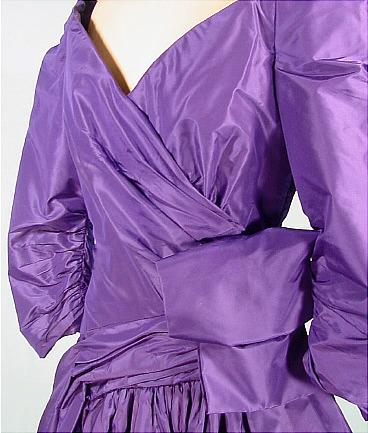 #3979 - c. 1986 SCAASI Purple Taffeta Party Dress! Arnold Scaasi has dressed a long list of fashionable women, including Elizabeth Taylor, Natalie Wood, Diahann Carroll, and Barbra Streisand. There was a wonderful retrospective museum show at the Fashion Institute of Technology (FIT) in New York City not long ago. Hundreds of dresses and gowns were displayed. I have an extra brochure which I will include with this dress (if you remind me!). My favorite quote in the brochure states "Perhaps Scaasi's most unique contribution to fashion in the last half of the 20th Century is his sense of humor. His clothes urge women not to be afraid of dressing boldly... As a couture design, he knows his customers intimately. He knows figure flaws, like bumps and bulges, which women want to suppress, and the good points, like fine shoulders which thy want to emphasize." Well, that about sums up this bright purple taffeta creation! Can't get a sexier bodice and no other flaws can be determined under the volume. Great length to show off "the legs". Crinolines under. Side zipper.
SOLD - but on display in Museum Category for Research/Display
[Back]