Antique & Vintage Dress Gallery
www.antiquedress.com
7 IMAGES: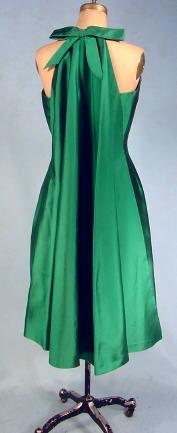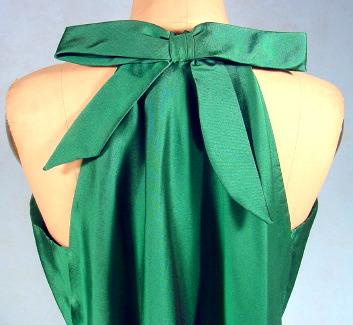 #3906 - c. 1960's CHRISTIAN DIOR, Paris Green Silk Dress! More Audrey Hepburn than most dresses! Almost surprising that it's not Givenchy, but better, it's Christian Dior! Not the less expensive New York or London label, but Christian Dior, PARIS. A most luxurious green silk satin fabric.. too bad you can't feel it through the internet! But I think you can tell from the sheen! Simple, high halter shape design in front.. to a very full draped back highlighted by the large bow at back neck! Awesome design! True CLASS! A pair of diamond earrings and bracelet are all you need. This is spotless and looks like it was just bought out of the boutique. Zips in the back with metal zipper and then the bow / train part is sewed on one side it snaps on the other side. Extremely well made. Completely lined. Condition is near Mint / collectors quality!
SOLD - but on display in Museum category for Research/Study
[Back]