Antique & Vintage Dress Gallery
www.antiquedress.com
9 IMAGES: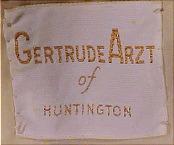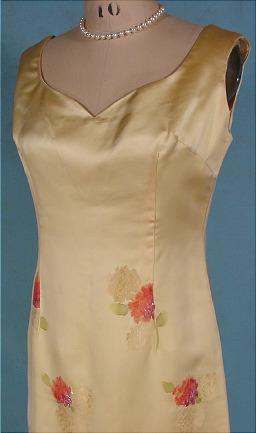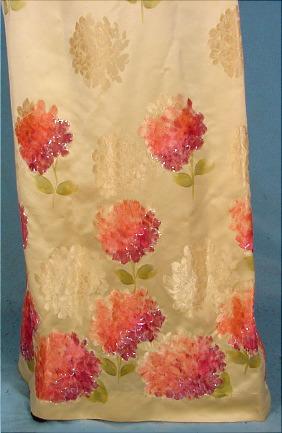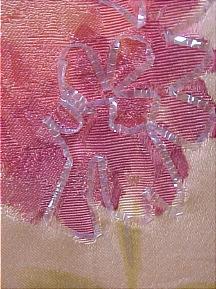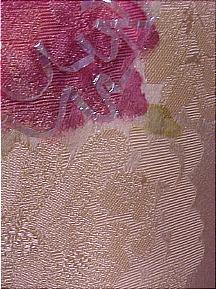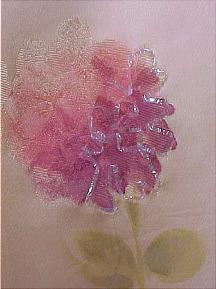 #3710 - c. 1960's GERTRUDE ARTZ Floral Silk Satin Gown! The silkiest silk satin you will ever feel! Too bad this website doesn't have "touchavision"! Custom made for Elizabeth Crocker, the wife of former President Lyndon Johnson's personal haberdashery (personal tailor) during those White House years. This item was purchased at their estate sale. Elizabeth was also a textile designer in her own right so she knew a great textile when she saw it! And you know she was invited to all the best Washington DC parties, so she had to have some fabulous gowns! Designed by Gertrude Artz, Huntington, Texas. This silk gown is soft golden color with pink, pale gold, and fuschia brocade flower pattern with clear shiny floss woven in to the darker flowers for a bit of sparkle. Gown has a long back slit in skirt, sweetheart neckline, scooped back, and is fully lined in soft silk. Hand finished zipper back. Measures: 36" bust, 30" waist, 38" hips, 58" long from shoulder to hem. Hand tacked down zipper. Would make a great bridesmaid gown as well as a second wedding gown, or really for any special occasion. A style that truly doesn't go out of style.
SOLD - but on display in Museum Category for Research/Display
[Back]