Antique & Vintage Dress Gallery
www.antiquedress.com
7 IMAGES: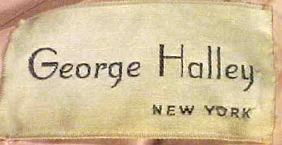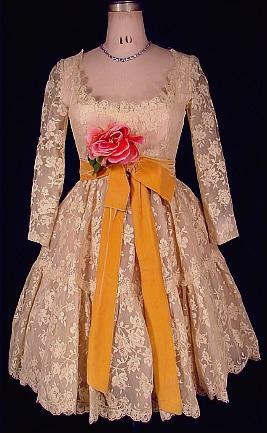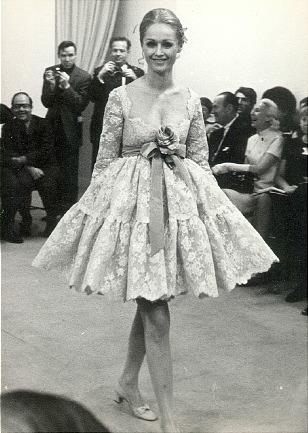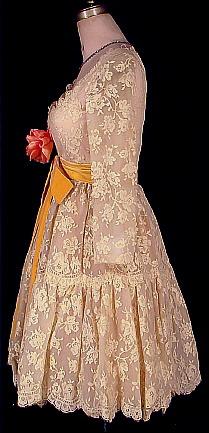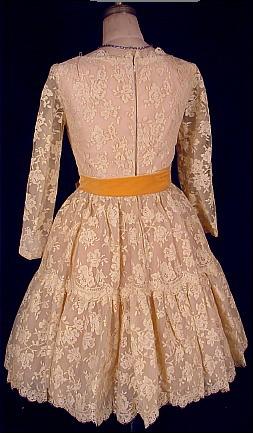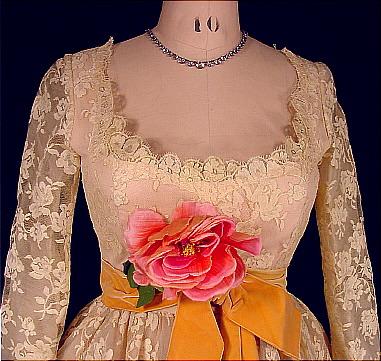 #3346 - c. 1968 GEORGE HALLEY, New York Beige Lace Baby Doll Dress with Huge Flower and Bow! 1968 CODY AWARD WINNER! Check through old Vogue and Harper's Bazaar fashion magazines from the 1960s, and you will realize that George Halley is a designer you should know. Top quality, expensive garments. As couture as you can get. He worked for Charles James (perhaps the "king" of modern couture), Jo Copeland for Pattullo and Jane Derby, and in 1966 he started his own line. Per New York Fashion book: "From the beginning, he was hailed as a great talent.... Most of his designs featured simple shapes, like the high-waisted, full-skirted ... evening dresses, but were interpreted in creative and romantic materials." The bodice is lined in a soft pink, the 3/4 length sleeves have a clear lining, skirt is lined in tulle and taffeta, and the bust has attached, folder pads to make you look like Sophia Loren. Excellent condition with minor faults: the rose needs a good fluffing, one sleeve lining is torn at the top, lining/label/velvet ribbon are slightly dirty. Measures: 34" bust, 27/28" (tight at 28") waist, 21" long skirt from waist to hem. Practice pouting your blushed, frosted lips and clip the ringlets into your hair, baby! It's VERY babydoll and will afford only limited movement of your arms. Perhaps it was a runway dress (I wondered)... and then I was sent a copy of the c. 1968 runway photo!!!! (see above). Yup.. a runway dress! Fabulous!! A plain George Halley wool coat sold for $1095 in the 1960s!!
SOLD - but on display in Museum Category for Research/Study
[Back]