Antique & Vintage Dress Gallery
www.antiquedress.com
8 IMAGES: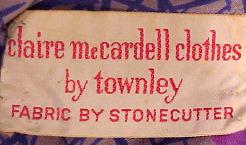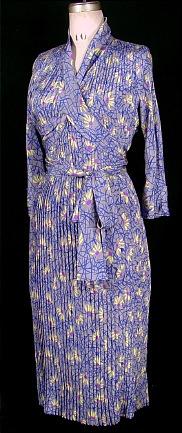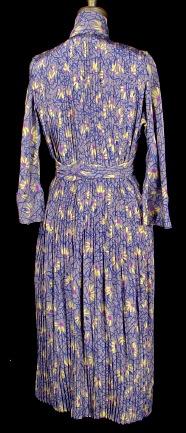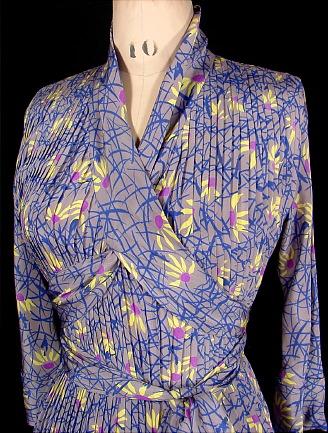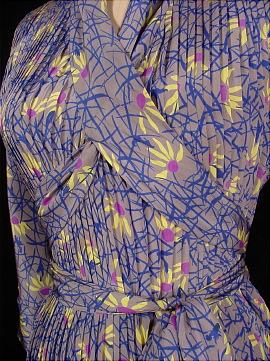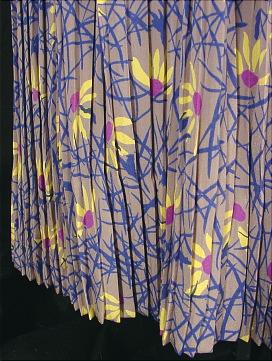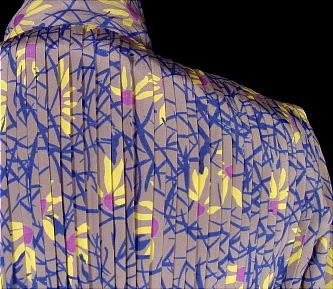 #3247 - c. 1950's CLAIRE McCARDELL Silk Mini Pleated Dress! Claire McCardell was the innovator in easily wearable clothing, and this one is quintessentially her! Per New York Fashion book, McCardell believed that "Women's clothing should be versatile, comfortable, durable, flattering, and easy to care for. Clothes that are timeless." One of her constants was the dress with NO built-in waistline, preferring that her customers determine where their own waistline should be, she provided them sashes." So this great, classic McCardell in a silk fabric is by Stonecutter and features a stylized floral print of yellow, purple and blue on a lavender/gray background. This is one amazing dress. The entire dress is designed of very stretchy mini pleats from shoulder to hem. Only the sleeves and ties aren't pleated. Now, listen up. The collar is actually part of the long ties which then wrap around the breasts, around the back and tie in front. This allows you to make the dress fit YOU, not you fitting the dress. It will fit a wide variety of sizes!! Nearly one size fits all!! 47" long from shoulder to hem. There are no closures, just goes on over the head. 15" across back unstretched. 3/4 sleeve length. Wide cuff sleeve. Condition is near mint, except for the label which is a bit dingy. Worthy of a museum collection of modern clothing.
SOLD - but on display in Museum Section for Research/Study
[Back]