Antique & Vintage Dress Gallery
www.antiquedress.com
8 IMAGES: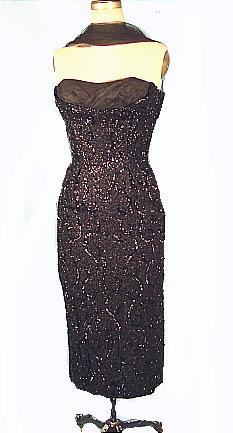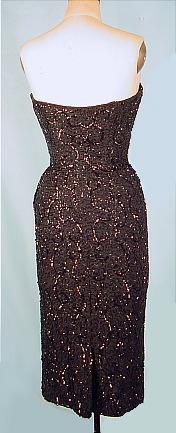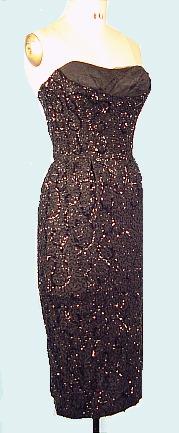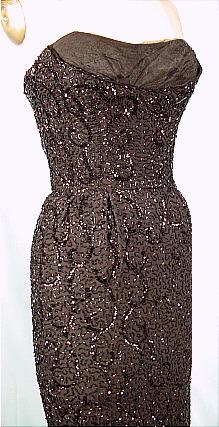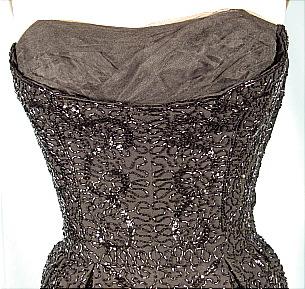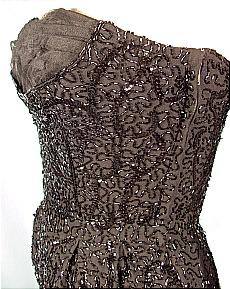 #1708 - c. late 1940's, early 1950's CEIL CHAPMAN Black Beaded and Sequined Cocktail Dress with Tulle Bodice! Ceil Chapman was one of Marilyn Monroe's favorite designers and often used in vintage Cadillac ads! And her gowns are getting more and more popular as investment pieces... and for a very good reason. They are beautifully designed to hug every curve of a woman's body! I keep an eye out for the best Ceil Chapman dresses and gowns, and have never seen another fully beaded/sequined cocktail dress, so you know this is special. Side metal zipper. Mid-calf length. Boned bodice with that ever-so-sexy tulle bustline! Fits my dressform perfectly at 35" bust, 25" waist, 36" hips. Excellent condition. The "scarf" is just a bit of tulle, and is not included.
[Back]